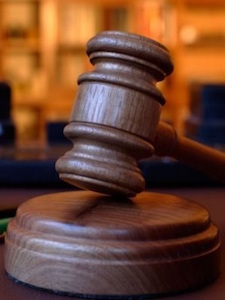 St. Clair County jurors awarded nearly $800,000 to a crash victim after finding his former lawyer let a suit against the other driver lapse.
Jurors returned a verdict for Gene Schmidt against Andrew Toennies and the St. Louis firm of Lashly & Baer in November.
They awarded Schmidt $250,000 for pain and suffering, $150,000 for emotional distress, $122,500 for loss of normal life, and $110,000 for lost earnings.
They awarded $161,814.12 in medical expenses, past and future.
Toennies and Lashly & Baer admitted negligence but denied that Schmidt sustained injuries to the extent he claimed.
Bruce N. Cook, leader of a Belleville firm, filed Schmidt's suit in 2013.
Cook wrote that Schmidt's statute of limitations expired against a driver whose vehicle struck his vehicle from the rear.
He wrote that Toennies and Lashly & Baer deprived him of damages for severe and permanently disabling injuries.
He wrote that Schmidt became habituated to analgesics to relieve his symptoms.
Chief Judge John Baricevic assigned the suit to Circuit Judge Robert LeChien, but Toennies and Lashly & Baer moved for substitution.
Any party to an action in Illinois can substitute a judge once without cause, if the judge has not made a substantive ruling.
Baricevic assigned the suit to Circuit Judge Vincent Lopinot, who signed it over to associate judge Randall Kelley last June.
Lopinot wrote by hand an order stating, "By agreement of the parties, case assigned to Judge Kelley for trial."
Kelley brought it to trial in September, but Cook told him on the third day that he could not produce a doctor with necessary testimony.
Kelley declared a mistrial, over an objection from defense lawyer Michael Murphy of Freeark, Harvey and Mendillo in Belleville.
In October, Cook moved to amend Schmidt's complaint.
Kelley granted it, over another objection.
Cook added an allegation that the malpractice "aggravated plaintiff's existing mental health condition."
At the second trial, Cook and his associate Mary Jane Brauer presented Schmidt's evidence for three and a half days.
The plaintiff rested on Nov. 24, and the defendants immediately did likewise.
Jurors heard closing arguments the next day, listened to Kelley's instructions, and returned in five hours with a verdict of $794,314.12.
Toennies and Lashly & Baer fully satisfied the judgment, Cook reported to the court on Jan. 19.
Interest and costs brought the total to $807,745.18.