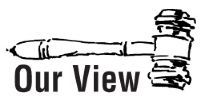 Ah, the good old days! When a mediocre lawyer or some political hack could get elected judge and stay on the bench for the rest of his life.
Sure, there were periodic ballots with retention standards higher than for first-time election, but voters didn't use to follow judges much and the odds of being rejected by more than 40 percent of the electorate were pretty slim.
St. Clair County Circuit Judges John Baricevic, Robert Haida, and Robert "The Dog" LeChien remember how wonderful it was.
"Retentions used to be low-key events," Baricevic recalls fondly in the Post Dispatch. "Then the Chamber of Commerce began dumping money on campaigns against Democratic judges."
That dang Chamber ruined everything.
It's gotten so bad that Baricevic and the other two had to resort to resigning their positions and pretending to be first-time candidates again, so as to avoid the higher standard of retention.
Fortunately for them, the Illinois State Board of Elections punted, deadlocking in a 4-4 partisan vote on the propriety of the matter – thereby avoiding a decision on making the trio run for retention.
The problem with the good old days is that not everyone remembers them fondly.
For a middling magistrate with a lifelong sinecure, they were good.
For an honest person expecting courts to dispense justice, not favors, and inadvertently finding himself in the position of being a plaintiff or defendant whose fate was in the hands of such a judge, the old days maybe weren't so good.
There is positive in the Election Board's indecisive decision, however. The case has moved beyond what a four-Democrat and four-Republican panel was certain to do and has been appealed to a higher authority in Sangamon Circuit Court. Ultimately, though, this one is headed to the Illinois Supreme Court.
In the good old days, the three judges would have had to face the voters in a low-key retention vote. Unfortunately for them, there's no going back since they've submitted resignation letters and created vacancies that are now up for grabs. Fortunately for the public, the mockery being made of the judicial system and the insult to the intelligence of voters has a chance of getting a full hearing in courts these judges do not control.