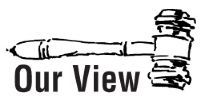 The 22nd Amendment to the U.S. Constitution prohibits a president from serving more than two terms, but what if the current occupant of the office changed his name or discovered that his real name is something other than he thought it was?
Could Barack Obama, for instance, complete his second term and then run for the presidency again, as if for the first time, under a new persona?
Surely, no matter how much he might claim to being a different person, American voters, their representatives and the courts would conclude that he'd had his chance and reject such an audacious ploy.
The above scenario may seem far-fetched, but it's not far removed from the sophistical arguments being advanced by a trio of scamming Illinois judges who've decided to finesse the plain meaning of state law and masquerade as first-time seekers of the positions they currently hold – rather than face the difficult challenge of standing for retention as incumbent judges.
The Illinois state constitution requires anyone running for a judgeship to win a simple majority of the vote. A judge once elected, however, must stand for retention periodically, and amass at least 60 percent of the vote.
Nevertheless, St. Clair County Circuit Judges John Baricevic, Robert LeChien, and Robert Haida are seeking to avoid the higher retention standard by resigning their judgeships and pretending to be first-time candidates.
Belleville City Clerk Dallas Cook challenged the obvious ploy, but hearing officer David Herman is recommending that the State Board of Elections overrule his objections.
Herman brazenly claims that sitting judges have the option of seeking retention, as required by law, or opting to resign their posts and seek election instead, seemingly in defiance of said law. It's as if Herman's 11-page order was written by an advocate for the judges' position.
The Illinois State Board of Elections will hear arguments this week.
However they rule, it's hard to argue that such slick operators are qualified for judgeships or any other office.