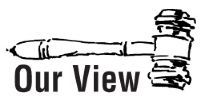 Remember the federal government shutdown in 2013? It didn't last long enough, did it? But at least we learned how many federal workers were "non-essential."
That's 85 percent of Department of Commerce employees, 90 percent or more of the personnel at EPA, SEC, HUD, and Treasury, and 95 percent of the man- and woman-power at the Department of Education.
Perhaps it depends on what the meaning of "non-essential" is, but, still, we have to wonder why a government so deep in debt and perpetually running deficits insists on retaining hordes of not-altogether-necessary workers.
Exactly how many people are working for the federal government? About half.
It's an old joke, and pretty corny, but there's more than a kernel of truth to it – even on the state level. Some are working hard, some hardly working, and some not working at all.
Illinois has more than its share of non-essential public employees, many of whom enjoy compensation and benefits far exceeding what they could command in the private sector.
Our state can no longer afford to bankroll this boondoggle, and additional tax increases will only exacerbate the ongoing exodus of productive businesses and citizens, leading to further declines in revenue.
The only alternative is to face reality and cut costs, which is what Gov. Bruce Rauner is trying to do.
Rauner has implemented a merit-raise system for non-union employees and a few thousand workers represented by smaller state-government unions. What he'd like to do is extend this merit system to the state's largest employee union, the American Federation of State, County and Municipal Employees Council 31.
Unfortunately, Council 31 members have very low self-esteem. Uncertain of their worth, they prefer to stick with a system in which their merit is assumed and not measured.
Council 31 spokesman Anders Lindall feigns concern that the governor's plan would "open the door to cronyism and favoritism," as if those weren't the very things that got us into this mess.