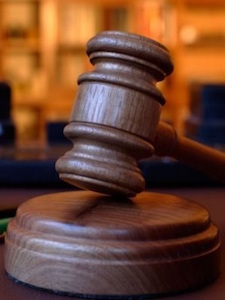 Chiropractor Gerald Bemis of Alton, once a favorite plaintiff for class action lawyers, has returned to that role.
He sued two California companies in federal court on Dec. 4, for sending him a facsimile, and he moved to certify a class on Dec. 7.
"Unsolicited faxes damage their recipients," wrote his lawyers, Philip Bock of Chicago and Timothy Campbell of Godfrey.
The lawyers wrote that a recipient loses the use of his fax machine, paper and ink toner.
They wrote that an unsolicited fax wastes valuable time and interrupts privacy.
Bock and Campbell associated with Tom Lakin's law firm of Wood River at the crest of the class action wave in Madison County, prior to 2005.
Lakin filed at least 20 class actions against insurers for Gerald Bemis and brother Frank Bemis, also a chiropractor.
The Illinois Supreme Court shut down the last of those actions last month, denying review of an appellate court decision in favor of Employers Mutual.
In that case, Campbell represented Frank Bemis.
In the new action at federal court in East St. Louis, Gerald Bemis seeks damages from Progressive Funding, 11th Hour Investments and 12 John Does.
He claims they sent advertisements in an attempt to attract borrowers, without invitation or solicitation.
He seeks damages of $500 to $1,500 per violation under the federal Telephone Consumer Protection Act.
He also alleges common law conversion.
"By sending plaintiff and the other class members unsolicited faxes, defendants improperly and unlawfully converted their fax machines, toner and paper to defendants' own use," Bock and Campbell wrote.
"Defendants also converted plaintiff's employees time to their own use," they wrote.
Bemis also alleges that the defendants violated Illinois consumer fraud law, by forcing him to pay for their advertising.
He claims they caused substantial injury to hundreds of persons.
U.S. District Judge David Herndon will preside.