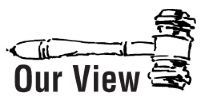 With a presidential election year coming up, political commentators and party hacks are sure to resuscitate that old canard about how so much money is spent on campaigning, how big donors undoubtedly expect something in return for their "investments," and how we need to get the money out of politics.
It's funny how you never hear anybody say we need to get the money out of research.
You know, scientific research?
How many billions of dollars are invested in this allegedly objective, altruistic, and incorruptible enterprise every year – by individuals, corporations, foundations, and taxpayer-subsidized government agencies? Don't the entities contributing such quantities of cash expect something in return? Isn't there at least a possibility that their expectations could influence the recipients of their largesse and skew research results?
Ever heard of "climate change"? You know, the theoretical phenomenon formerly referred to as "global warming," until even the best book-cookers couldn't hide the lack of evidence for rising temperatures any longer and had to rename it? The theoretical phenomenon that 97 percent of scientists supposedly believe in – only that number, too, was fabricated?
It almost makes you question the integrity of lots of scientific research, especially the well-funded stuff. After all, if you can't trust the United Nations' Intergovernmental Panel on Climate Change, who can you trust?
We've become quite skeptical of asbestos research over the last year, what with New York State Assembly Speaker Sheldon Silver being arrested for secretly directing state funds to the Columbia University Mesothelioma Center, whose director, Dr. Robert Taub, reciprocated by referring asbestos patients to Silver's law firm.
Asbestos lawyer John Simmons of the Simmons Law Firm in Alton has a similar arrangement with Dr. Taub, exchanging "grant" money for referrals worth millions more in settlement fees – and possibly in violation of Illinois state laws governing charitable foundations in the process.
It makes you wonder how reliable asbestos research is. You know, the research used in court to win big settlements?