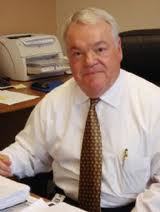 Madison County Circuit Judge Richard Tognarelli believes in second chances. In particular, he believes that veterans who have suffered the horrors of war should not be abandoned in their time of need.
Tognarelli currently presides over a specialty court created in 2009 to help veterans who have have been charged with non-violent crimes and who are dealing with a drug or alcohol problem and/or a mental health issue, such as post-traumatic stress disorder and traumatic brain injury.
Madison County's Veterans Court was the first of its kind in Illinois, and the third such court in the country, said Tognarelli The court combine rigorous treatment for veterans facing incarceration due to charges stemming from mental health and/or substance abuse issues So far, a total of 197 veterans have been served.
It has not only helped veterans who have served in Iraq but from previous conflicts, as well.
Tognarelli said that one in six veterans who served in Operation Enduring Freedom and Operation Iraqi Freedom suffer from a substance abuse issue; one in five show symptoms of a mental health disorder or cognitive impairment. He said that research continues to draw a link between substance abuse and combat–related mental illness.
"We have served veterans from the Korean War, Vietnam War, Bosnia, Operation Desert Storm, Operation Iraqi Freedom, and Afghanistan," he said. "We have had veterans with significant alcohol and drug abuse problems that have benefited from the treatment provided through Veteran's Court and the VA. The success rate is quite high, because most are highly motivated to return to a normal life and to re-establish familial ties and relationships."
Each veteran who enters treatment is held accountable for his or her recovery, he said.
"In order to enter Veteran's Court, the veteran needs to submit an application to participate," said Tognarelli. "He (or she) must be honorably discharged. The application may be submitted by the veteran, but normally it is done by their attorney. Referrals may be made from various sources, the court, State's Attorney office, Public Defender's office, the Madison County Veteran's Assistance Commission, law enforcement, and even the website.
Tognarelli said the applicant is screened by probation and the VA. The application is then forwarded to the State's Attorney's office for approval. The veteran is assigned a probation officer, and must comply with all conditions of supervision. He or she is given a treatment plan and must attend status hearings, usually every other week.
The courts work with the vets and various communities, associations, and organizations to promote sobriety, recovery and stability through a coordinated response and allow veterans to go through the treatment court process with other veterans who have similar common past experiences. The court links them with Veterans Affairs services designed for the veterans unique needs, he said.
Some of the groups include Veteran's Administration, Madison County Veterans' Assistance Commission, Chestnut Health Systems, the Veteran's Center in East St Louis, and St. Louis, Scott AFB, and others. It is also strongly supported by the Madison County State's Attorney's office, and the Madison County Public Defender's office.
Every step in the process is created to ensure the vet lands on his or her feet, he said. And, the response from the community has been very encouraging.
"The response from the court, the public, and veterans has been overwhelmingly positive," he said. "When you observe the transition from abuser and user to responsible citizen and family person, the result is quite uplifting. It is one of the better things we do as judges and lawyers. We return honorable veterans, who have suffered hardship, to the community as productive citizens."
Tognarelli said the treatment court adheres to stringent and meticulous standards. But the rewards at the end of the program for each veteran outweighs the hardships, he said.
"Veteran's Court is not easy," he said. "It requires strict compliance with a treatment plan. Violations are punished by ordering public service work or jail time. However, if a veteran successfully completes the treatment plan then the charges against them are dismissed.
"These Veterans have sacrificed their lives to keep us free. They have endured countless hours away from their families. They have suffered, some wounded, not only physically, but also mentally. They have observed many brutal and bloody incidents. They have seen friends injured and wounded or killed...many have been scarred as a result of their protecting our freedom. They deserve a second chance, and Veteran's Court provides them that opportunity."
Tognarelli said that alternative courts, such as Veteran's Court, Drug Court, and Mental Health Court keep people out of prison and returns them to the community as productive citizens, if they comply with their treatment plan and at a third of the cost of incarceration.
"There is nothing better we can do in our criminal justice system," he said.