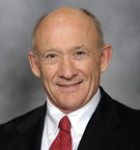 Metcalf
Asbestos attorneys from the Simmons Firm and Husch Blackwell discussed whether any asbestos exposure above background is causative, which is also known as the any exposure theory, during a presentation at the HarrisMartin Midwest Asbestos Litigation Conference in St. Louis on Sept. 18.
St. Louis defense attorney Mark Zellmer of Husch Blackwell said that when asbestos was first used in common products, people did not think it would be considered a "highly toxic material." That is until the National Cancer Institute hypothesized in 1978 that cancer may have more than one cause. They concluded that 13-18 percent of all cancer deaths per year in the U.S. were associated with asbestos.
There is much debate on whether this is only in those with heavy asbestos exposure or whether any exposure above background could cause asbestos-related diseases.
However, Zellmer said people are relying on arguments that exposures below background contribute to asbestos diseases, which he said isn't causative.
"If background exposure is not causing mesothelioma, then a lower exposure at work should not be the cause of mesothelioma," he said.
"At what levels do we find an observable effect in causing mesothelioma? Or at what levels do people not get mesothelioma from exposures?" he asked rhetorically.
Zellmer says the question people should be asking is whether the exposure in the lungs is enough to cause the disease a plaintiff alleges, but he added that its only worth asking if the exposure was above background.
As a result, he concluded that there is no causation when only a small risk exists, noting that any exposure above background is not proof of causation.
On the other hand, plaintiff attorney Conrad Metcalf of the Simmons Firm pointed to everyone's uniqueness, saying "there is not a one-size-fits-all exposure that's going to cause mesothelioma."
"Since we don't know what anyone's particular susceptibility is, no particular cumulative exposure can be said to be a no effect level for all people," his presentation stated.
Some people will develop mesothelioma from limited exposures while others will not develop the disease regardless of how heavy their exposures are, Metcalf said.
He added that half of all people exposed to what is considered "safe" levels of asbestos will still get asbestos-related diseases. Those "safe" levels are determined by the Occupational Safety and Health Administration, which has found that 10 asbestos fibers per cubic meter is considered safe.
"OSHA Permissible Exposure Limit is not 'safe' and significant risk remains at that level," he stated in his presentation.
"The conclusion is, there is no safe level of exposure to asbestos," he continued.
Metcalf said those who develop asbestos-related diseases "virtually always" have exposures above background.
However, he added that mesothelioma cases with non-occupational exposures represent 11 percent of all malignant mesothelioma cases, meaning those individuals were not exposed to asbestos through their work but were likely exposed through background exposures.
He explained that most of background exposure is chrysotile asbestos, "which means there's almost no risk … but it doesn't mean there is zero risk."
Calling mesothelioma a "signal tumor," Metcalf said mesothelioma signals one thing: that the plaintiff was exposed to asbestos.
"Mesothelioma is a signal tumor for asbestos exposure and can appear after relatively low-level exposures," he concluded.