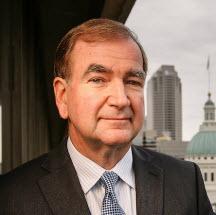 Nienhuis
Magnolia Marine Transport claims a man's botulism illness was the result of his own negligence and argues it was a pre-existing ailment.
According to Sherman Armstrong's June 26 complaint, he alleges that he was a seaman aboard the ship Miles Madison on Jan. 10 when he allegedly ate food that contained the botulism toxin, causing him to suffer a life-threatening infection.
He alleges counts of maritime negligence, unseaworthiness and maintenance and cure. He accuses defendant Magnolia Marine Transport of causing the conditions that led to the plaintiff ingesting botulism, the suit states.
As a result, Armstrong claims he suffered "career-ending, debilitating, painful and unfortunate injuries and damages," including pain and suffering and medical expenses.
Magnolia Marine Transport denied the allegations in its Sept. 14 answer through attorneys Robert Nienhuis and Neal Settergren of Goldstein and Price in St. Louis.
In its affirmative defenses, the defendant argues that any alleged damages are the result of the plaintiff's own negligence for failing to exercise care for his own safety and failing to obtain prompt medical care.
The defendant also argues that the alleged injury "was a pre-existing ailment and/or an inevitably worsening condition, and/or a condition that was not the result of the incident alleged in his complaint or any conduct of defendant or condition of its vessel."
Magnolia Marine Transport claims it paid maintenance and cure benefits to the plaintiff from the date of the incident until the present date.
The defendant also claims it is entitled to limit its liability as a vessel owner because the alleged incident occurred without its privity and knowledge.
The plaintiff seeks damages of more than $150,000, plus interest, attorney's fees and costs.
He is represented by Allyson Romani of Shrader and Associates in Glen Carbon.
Madison County Circuit Court case number 15-L-813