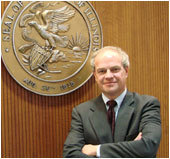 The daughter of a recently deceased man blames a nursing home for causing his death, saying it allowed him to develop ulcers.

Ramona Fortner filed a lawsuit Nov. 7 in St. Clair County Circuit Court against Atrium Health Care and Rehabilitation Center of Cahokia.

In her complaint, Fortner alleges her father, Robert Smith, was admitted to Atrium in Cahokia on Dec. 4, 2011. While living at the nursing home, Fortner developed multiple decubitus ulcers on his buttocks, gluteal cleft and coccyx, according to the complaint.

By Dec. 14, 2011, Smith's condition had grown so serious that he was admitted to Touchette Regional Hospital with a diagnosis of coccygeal ulceration, sepsis, septic shock and other medical conditions, the suit states.

On Dec. 22, 2011, Smith was admitted to John Cochran VA Medical Center in St. Louis, but died there on Dec. 30, 2011, because of complications related to his decubitus ulcers, the complaint says.

Before his death, Smith suffered disability and disfigurement, experienced pain and suffering and incurred medical costs, Fortner alleges.

Fortner blames Atrium for causing her father's death, saying it negligently failed to institute a regular program for him to prevent him from developing ulcers, failed to provide her father with necessary care and services and failed to employ sufficient staff to provide care for her father, among other negligent acts.

In her complaint, Fortner seeks a judgment of more than $150,000, plus attorney's fees and costs.

Stephen C. Buser of the Law office of Stephen C. Buser in Columbia and David M. Zevan of The Zevan and Davidson Law Firm in St. Louis will be representing him.

St. Clair County Circuit Court case number: 13-L-569.