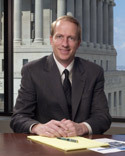 Cunningham
An Alton liquor store accused of selling a bath salts "drug," causing a woman's death, filed a third-party complaint against the manufacturers.
According to the original complaint filed April 19, plaintiff Shirley Morgan, as special administrator of the estate of Tonia Marie Whitehead, claims defendant William F. Brockman sold and distributed 500 milligram packets of "Up Energizing Aromatherapy Powder," more commonly known as bath salts. The packets are known to be used as a recreational drug, containing the chemical methlyenedioxypyrovalerone (MDPV), which is a stimulant similar to cocaine or amphetamines.
Morgan claims Whitehead consumed the packets in April 2011, became sick and died a day later at Alton Memorial Hospital. Morgan claims she believes Whitehead obtained the bath salts from someone who purchased them at defendant Purnima LLC, doing business as Broadway Package Liquor.
William F. Brockman Wholesale Tobacco & Candy and Ravikumar P. Modi are also named defendants.
The plaintiff blames the defendants for distributing and selling dangerous products and for failing to properly label the item as harmful.
Defendant Purnima filed a third-party complaint against LCM Distributing LLC, Adrenalin Rush, Inc, doing business as SmokeClear, Giuilo Bertoli and Anthony Capaccio on Sept. 18 through attorneys John P. Cunningham and Denise Baker-Seal of Brown & James in Belleville. It blames LCM for distributing the product and Adrenalin Rush of manufacturing and distributing the product. The complaint also says Bertoli and Capaccio operated businesses that manufactured and distributed the product.
Purima denied the allegations brought against it by the plaintiffs arguing that it was merely an innocent seller and states that if judgment is entered against Purnima, "then under such circumstances third party plaintiffs are entitled to contribution from the third party defendants."
Morgan seeks a judgment of more than $500,000.
Madison County Circuit Judge Dennis Ruth scheduled a case management conference for Nov. 20 at 9 a.m.
Lanny Darr of Alton represents the plaintiff.
Madison County Circuit Court case number 13-L-608