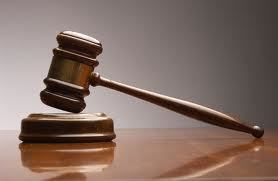 Donald R. Flack, 77, of Moro, who served as the Moro Township Supervisor since 2001, pleaded guilty to wire fraud and structuring transactions to avoid reporting requirements today in federal court.

Flack faces up to 20 years in prison on the wire fraud charge and up to five years in prison on the structuring charge, according to a release from the U.S. Attorney for the Southern District of Illinois. Both charges hold the possibility of a $250,000 fine and three years of supervised release after prison term. Sentencing is set for Jan. 3.

He is father of Madison County Associate Judge Don Flack.

According to prosecutors, Flack in 2006 began unlawfully taking money in excess of his authorized salary from the Moro Township account believing that he could repay the money.

Flack claims he borrowed the money to make a personal investment with a large return promised, the release states. He wrote checks to himself out of the township account disguised as "office expenses," authorities say" The amount of funds misappropriated is approximately $700,000.

The prosecution is the result of an investigation conducted by the Federal Bureau of Investigation and the Internal Revenue Service/Criminal Investigations. The prosecution is being handled by Assistant U.S. Attorney Norman R. Smith.