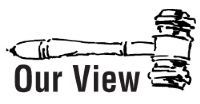 An article in the June 17th Environmental Health News reported that St. Louis attorney Stephen Tillery had "shifted his strategy" in his long-running, court-condoned attack on Syngenta Corp.
Instead of class action suits on behalf of Illinois towns and Midwest water districts claiming that farmland runoff of the weedkiller atrazine had contaminated water supplies, he planned in the future to file individual cases against the company on behalf of children with birth defects he'd attribute to trace levels of atrazine in tap water.

Tillery sued Syngenta in Madison County Circuit Court in 2004 and in federal court in 2010. Last year, the company settled for $105 million, a third of which went to Team Tillery.

"After years of litigation, the parties agreed to settle these lawsuits in order to avoid further business uncertainty and expense of protracted litigation," a Syngenta press release said.

"No one ever has, or ever could be, exposed to enough atrazine in water to affect their health," the release said, describing atrazine as "one of the best understood herbicides in the world, with almost 7,000 studies conducted over the past 50 years having examined its safety."

Now two lawyers who've worked with Tillery before have filed a birth-defect suit against Syngenta in St. Clair County, intervening in the settled federal case to demand documents Tillery obtained from Syngenta through discovery and was supposed to have destroyed.
Syngenta attorney Kurtis Reeg alleges that the two lawyers actually are trying to help Tillery maintain possession of documents he no longer has a legal right to.
"If a party were permitted to keep possession of its litigation adversary's confidential, sensitive documents after the conclusion of a lawsuit for purposes unrelated to the lawsuit," Reeg warns, "litigants would be exposed to a host of adverse risks, including dissemination of trade secrets and valuable business information to competitors, negative publicity, and dissemination of incomplete and misleading financial information to investors."
Syngenta should fight back and not roll over as this latest legal gambit plods through the justice system generating more legal fees and court costs.