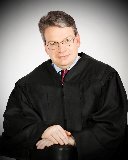 Madison County Associate Judge Clarence Harrison on Monday announced his plan to run for a circuit judgeship in next year's election.
Harrison seeks to fill the seat formerly held by Ann Callis, who resigned in May to run for Congress.
Shortly after Callis stepped down, Circuit Judge Dave Hylla took over her position as chief judge and the Illinois Supreme Court in June appointed Associate Judge Dave Hackett to fill her spot on the bench.
Hackett's appointment expires Dec. 1, 2014, which means he will have to win the November 2014 election if he wants to keep the seat.
As of Monday, Harrison is the only person who has publicly announced his intention to run for the circuit judgeship formerly held by Callis.
Established party candidates seeking to run in next year's election don't have to file their nominating petitions until Sept. 25 and have until Dec. 2 to do so, according to the Illinois State Board of Elections' 2014 election calendar.
Harrison said Monday afternoon that while his announcement may seem early to some, it's really not given that candidates can begin circulating their nominating petitions during the first week of September.
Noting his tenure on the bench, Harrison said he feels like the timing is right for him to seek the circuit judgeship.
He also said he would like to be in a position where he can participate in discussions about various advances in the law and court procedures, such as electronic filing.
"I'd like to be involved in those processes," he said. "I'd like to see those are handled in a way so everyone can be heard."
The press release that announced Harrison's bid notes that he joined the judiciary as an associate judge in 1999 and has since been appointed by his colleagues to three, four-year terms. Prior to joining the bench, he practiced law in Granite City.
As a judge, Harrison has handled a variety of matters and "his current assignment focuses on claims for serious workers, as well as serving as a utility judge handling cases from other divisions," according to the release. He also presides over Madison County's asbestos docket.
Harrison is the son of former Illinois Supreme Court Chief Justice Moses Harrison II, who died in April. He credits his father and mother, Sharon, "with instilling in him the importance of community service and the dignity of each individual," the release states.
"As a Circuit Judge, I will work to shape court policy so that all voices are heard as we embrace a changing society and new technology," Harrison said in the release.
Harrison earned his undergraduate and law degrees from Southern Methodist University in Texas. He and his wife, Carol, have two daughters and live in Collinsville.