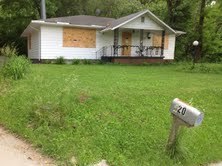 Fairview Heights police handled 66 calls to the home of accused heroin dealers Deborah Perkins and her son Douglas Oliver in 12 years, but not a single visit resulted in the filing of a drug charge against either of them until this year.

Police spokesman Steve Evans said, "We worked on it various ways. It got a great deal of police attention."

He said police can only prepare charges. He said he could not comment on things outside of the department's control.

Federal prosecutors have identified Perkins and Oliver as associates of Sean McGilvery, alleged heroin supplier for former judge Michael Cook.

Oliver never faced a drug prosecution in St. Clair County until this year, and Perkins hadn't faced one since 1978.

They apparently didn't try to hide their actions.

Federal agent Neal Rohlfing wrote in March that police had "numerous reports of suspicious drug related activity" at 20 Kassing Drive.

The Record had asked for reports on police calls to the address since 2008. Evans said a freedom of information officer would review the request.

The information sought was available in court documents supporting charges against Perkins and Oliver.

Rohlfing further wrote that police had "multiple contacts and arrests on drug related charges involving the occupants."

He wrote that agent Aaron Nyman "interviewed multiple people who claim to have routinely purchased heroin and have been involved in the trafficking of heroin from the residence."

"Agent Nyman noted that there have been numerous arrests made with heroin and other drugs recovered from multiple suspects and the activity has not slowed or stopped," he wrote.

Kassing Drive runs up the bluff behind the I-64 interchange on Route 157.

The house stands about 100 feet from the Caseyville border.

Perkins nearly lost the property in 2003, when she conveyed it to Lenill Johnson of Edwardsville by quit claim deed.

She hired lawyer Thomas LeChien and sued Johnson, claiming she signed the deed so he could obtain a loan to start a business with her.

Johnson hired no lawyer and filed papers complaining that LeChien's brother, Robert, was a circuit judge.

Perkins switched lawyers and circuit judge Ellen Dauber found the deed null and void.

Johnson sent an affidavit that he missed the proceedings due to his incarceration at Menard penitentiary, but it didn't change Dauber's mind.

Perkins kept the house, but now she has lost it in sensational fashion.

Last Sept. 6, Fairview Heights police charged that Oliver and Perkins concealed the death of 30 year old Jessica Williams.

She had died of a heroin overdose in their house six months earlier and they had dumped her body on a vacant lot in East St. Louis, according to police.

On Sept. 29, 20 year old Jennifer Herling also died of a heroin overdose at the house.

In November, the Metropolitan Enforcement Group of Southwestern Illinois started an investigation of crimes at the house.

According to agent Rohlfing, a confidential source bought heroin there late last year.

Perkins traveled to Chicago on Jan. 18, Rohlfing wrote, and police watched her get off a bus in St. Louis three days later.

He wrote that they followed her to Kassing Drive and obtained a search warrant.

Agents found 20 grams of a substance that tested positive for heroin.

They arrested Perkins and Oliver that day.

On Feb. 5, a federal grand jury indicted Perkins and Oliver on charges of conspiring to distribute heroin and a controlled substance.

On Feb. 15, St. Clair County State's Attorney Brendan Kelly charged both with drug trafficking and delivery.

On March 5, Perkins agreed to forfeit the property to the government.

Meanwhile, Fairview Heights obtained an injunction to secure and enclose the house and to prevent occupancy.

Plywood covers the doors and windows.