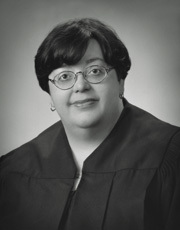 Madison County Circuit Judge Barbara Crowder on Thursday ordered Madison County not to sell a property owned by American Legion along Highway 157 in Edwardsville.

American Legion Post 199 in Edwardsville filed suit against MadisonCounty and EdwardsvilleTownship for removing an assessment freeze on 49.22 acres of its property and placing it up for sale. In the suit filed Feb. 8, American Legion sought a restraining order and permanent injunction to stop the county from selling the property at a delinquent tax sale Feb. 19.

Madison County Assistant State's Attorney John McGuire said American Legion wants a freeze on its golf course.

"They think the tax bill for all their property, the clubhouse and golf course, should be frozen," McGuire said. "We don't think the golf course is covered."

The county's assessment is adjusted the same as all golf courses, McGuire said.

"You guys will hopefully sort this out, and if not, we'll figure out a way to sort it out," Crowder said to McGuire and American Legion's attorney B. Jay Dowling.

American Legion claims in its suit that prior to the 2010 property tax year, the county applied the veteran's organization freeze pursuant to state law.

With the property tax freeze, their bill in the current tax year would be $925.32 on 49.22 acres. Without the freeze, their bill would be $9,305 on the same acreage, according to records released by Madison County Chief Deputy Treasurer Jeremy Plank.

American Legion also has to pay $2,048 for 8.69 acres on another part of the property, which has not been frozen.

The defendants named in the suit also included Madison County, Treasurer Kurt Prenzler, Clerk Debbie Ming-Mendoza, Assessor Karen Stack, Edwardsville Community School District, City of Edwardsville, Edwardsville Community Unit School District and Edwardsville Roads and Bridges.

The case is Madison County case number 13-MR-36.