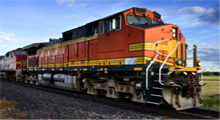 An Illinois welder was awarded $1.05 million by St. Clair County jurors over injuries he sustained during a 20-year career.

The verdict was reached against Union Pacific Railroad following an eight-day trial in Circuit Judge Vincent Lopinot's courtroom.

Plaintiff Don Currie, 48, of Villa Grove, Ill., waited patiently outside a third floor courtroom as the jury deliberated nearly eight hours Wednesday.

The verdict came in at 8 p.m. on Wednesday, according to plaintiff's attorney Nelson Wolff.

"Although his disability now signals the end of the line for his career, this verdict sends a clear message that railroads should not put profits before safety," Wolff said in a press release.

Wolff requested the jury award his client $2.2 million dollars for medical bills, lost earnings, loss of a normal life and future pain and suffering.

Currie brought his lawsuit under the Federal Employers' Liability Act, claiming his injuries ended his career.

Union Pacific attorney Tom Jones asked the jury to award nothing to Currie.

"I'm not going to rehash the evidence, because you are an intelligent jury," Jones said. "Mr. Wolff is appealing to sympathy. Sympathy should play no role in deciding this case."

Currie listened and shook his head.

He testified that he sustained injuries on Jan. 28, 2010, working on the main line track in Springfield while lifting heavy equipment. He claims the railroad failed to provide adequate and safe equipment and tools, including a truck with a working mechanical lifting device.

Currie also stated he worked the main line track in Ina where he sustained injuries to his lower back and to the soft tissues, ligaments, tendons, muscles, blood vessels and nerves of his back and spine.

He was diagnosed with herniated lumbar discs and nerve root impingement. Surgery was needed to remove one disc and fuse two vertebrae.

Currie also claimed the railroad did not provide him work assistance or safe work methods.

"If a railroad is going to do what it does for profit, then it has a duty to its workplace," Wolff said.

Wolff contended the railroad had not "educated its workforce," and Currie was in need of a welder's helper. He said the railroad was aware its workers were at risk.

Certain risk factors exist for the development of low back problems, for traumatic or cumulative injury, Wolff explained.

"What would a reasonable employer do?" Wolff said.

Wolff suggested the company reduce overtime and educate employees. He said the railroad has not educated its workforce, and the lack of a welder's helper was not "just a one-time event."

"You must find that the railroad was negligent," he said. "They go across the country and bring the same parade of witnesses that they have paid to be deniers."

Wolff said that Currie wanted to follow in his grandfather's footsteps, and work "as long as he could." After he left the railroad, Currie was rejected from 99 percent of the jobs he applied for, Wolff said.

Defense attorney Jones was overheard saying "wow" as he sat in his seat listening to Wolff's closing arguments.

Jones said during closing arguments he was going to curtail his remarks though each attorney was allowed one hour and 15 minutes to speak.

"I'm sure you're tired of listening to lawyers talk," he said.

Jurors smiled.

Jones said that "nothing" indicated Union Pacific was negligent on Jan. 28, 2010. He said that Currie was properly trained.

"Union Pacific has continued to do everything they can to provide their employees with a reasonably safe place to work," Jones said. "Do you think Union Pacific wants to be here?"

"I want you to award $0 as to every one of these claims." Jones said. "I want you to do it, because it's the truth."

Currie had not made an effort to mitigate his damages and look for work," Jones said.

"It is certainly easier to come to court and ask for money than it is to find work, and obviously Mr. Wolff thinks it's OK to do that."

St. Clair County Case number 10-L-206.