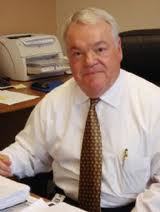 Illinois Supreme Court Justice Lloyd Karmeier and St. Clair County Circuit Court Judge Steve McGlynn have been "highly recommended" by the Illinois Civil Justice League (ICJL).

The ICJL today began releasing its rating of judges running for retention or election on Nov. 4, starting with southern Illinois candidates.

Karmeier, who seeks a second 10-year term to the Illinois Supreme Court, and McGlynn, who seeks election as circuit court judge in the 20th Judicial Circuit, were noted for their "high level" of competence on the bench and their commitment to informing voters about their candidacies, according to a release from the ICJL.

The ICJL had asked judges or candidates seeking election to answer its questionnaire, which it then published in unedited form at illinoisjudges.net.

ICJL President Ed Murnane said his group also evaluated the answers, judicial and career records, media accounts, bar ratings, campaign contributions, and other sources of information in order to establish its findings.

The release of the ratings is part of the organization's voter education initiative, "Judges: Good and Bad-You Can't Afford to be Indifferent."

"I think we all recognize that judges have the ability to decide our fate on issues such as freedom or incarceration, however, it is also true that some can have a significant impact on our employment status and the economic future of our children," Murnane stated.

"With such important issues in the balance, it is critical that voters have the opportunity to make informed and educated choices."

To be retained, Karmeier needs to get at least a 60 percent "yes" vote from those casting ballots in the Fifth Judicial District, which includes the 37 southern-most counties in the state.

McGlynn, a Republican, is running against Associate Judge Heinz Rudolf, Democrat, in a Circuit that includes St. Clair, Monroe, Randolph, Perry and Washington counties, Rudolf did not respond to the ICJL survey which asked candidates to discuss, among other things, their experience and views on various aspects of the civil justice system.

The ICJL did not rate Rudolf as it takes no position on candidates who do not respond to the group's questionnaire.

The group rated St. Jacob attorney John Barberis, Republican, as "recommended." Barberis is running against Associate Judge Clarence Harrison, a Democrat, for the vacancy created when Ann Callis stepped down to run for Congress.

The ICJL took no position on Harrison, as he also did not answer the ICJL questionnarire.

The rating of "recommended" is given to candidates demonstrating a "satisfactory level of competency in regards to their legal and/or judicial careers, and/or who have demonstrated their commitment to educating the voters about their background, experience and viewpoints on the judicial system," according to the ICJL.

Third Circuit Judges Dennis Ruth and Richard Tognarelli, who seek retention to their second six-year terms, were rated "recommended" by the ICJL,

Madison and Bond counties make up the Third Circuit. Ruth and Tognarelli also will need at least a 60 percent "yes" vote to be retained.