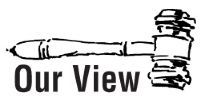 For years, we've complained about the legal climate in Madison County and how it encourages out-of-state attorneys representing out-of-state plaintiffs to file asbestos and other cases here in our docket, thereby perpetuating our status as a judicial hellhole. We operated on the assumption, of course, that being a hellhole is a bad thing. It never occurred to us that it was something to be proud of, or thankful for.
Now, at last, we've seen the light – thanks to East coast lawyer Paul Napoli.
With his superior wisdom and out of the kindness of his heart, Paul took it upon himself to explain to us the manifold benefits of hellhole status.
In response to a recent article in the Record noting the dramatic rise in the number of case filings in Madison County last year, Paul pointed out that "these filings are anything but detrimental to the Court and the community. The community and its residents benefit from the increased business, jobs and tax revenues generated by new satellite law offices opening locally from large, out-of-state firms, as well as the increased business travel of out-of-state attorneys appearing before the Court," he explained.
"Revenues are increased for the court system in terms of filing fees and for the community in terms of restaurants, hotels, other businesses and vendors (court reporters, shippers, document management, office supplies, to name but a few) serving the local and transient legal community and the court system," Paul continued. "Most of all, Madison County residents should be proud to know their community and Court system are helping those victims and their families whose malignancies, whether mesothelioma or lung cancer, will eventually lead to their death."
Lost in the shuffle, the biggest beneficiary of all: the plaintiff attorney posing as benefactor.
Paul Napoli is senior partner in the New York-based law firm of Napoli Bern Ripka Shkolnik, which last year accounted for one third of the record 1,678 cases filed in Madison County.