Husch Blackwell LLP
Recent News About Husch Blackwell LLP View More
BELLEVILLE – An aviation services firm has filed a lawsuit alleging that a defective device caused damage to an aircraft.
Roxana refinery defendants deny liability and argue that they complied with state laws in a former Roxana Junior High School teacher's lawsuit alleging exposure to benzene.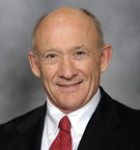 During the HarrisMartin Midwest Asbestos Litigation Conference, asbestos attorneys from Husch Blackwell and the Simmons Firm discussed whether any asbestos exposure above background is causative, which is also known as the any exposure theory.